Currently, I am flying without an engine as I have come to an Italian hang-gliding school for a week. Since I do not have a license, nor do I have any knowledge about the terrain and aerology of this place, I am starting from the basics with basic exercises.
The training approach here is different from what I have experienced before. Initially, I run with a 21-square-meters hang-glider that has a very light sail, like the one used in paragliders. While it's very easy to take off, controlling it is relatively hard as it flies almost by itself.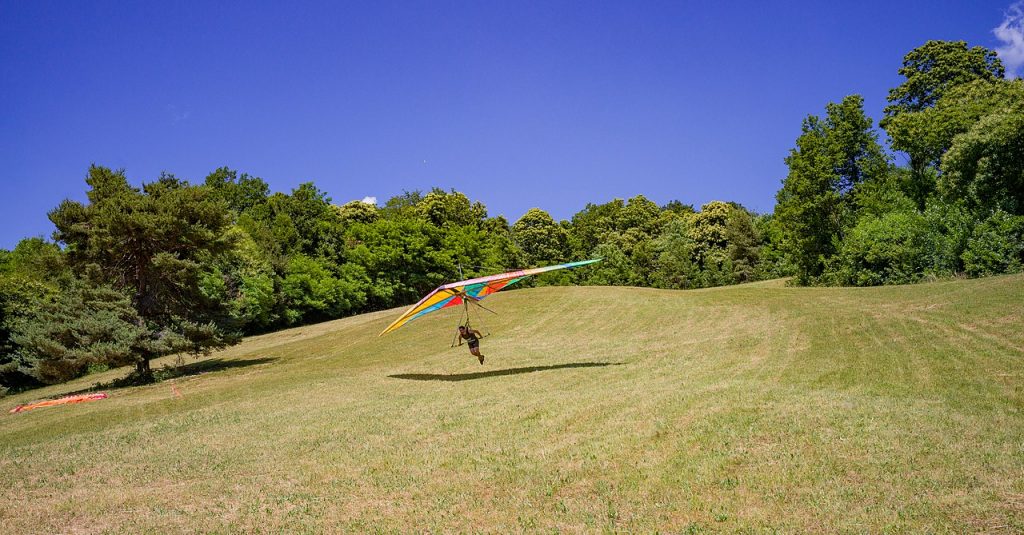 I start with a very low angle of attack, which means that I try to gain more speed but do not lift off for a long time, which is bad. I simply do not let it fly for a long time! Previously, I used to fly a 16-meters hang-glider that required more speed on takeoff. Although the flight itself is very unstable, the landings are pretty good. I have spent a lot of time on them previously 🙂
If you miss the proper flare moment and the landing seems to be on the wheels, the school does not require you to group putting your hands out of the downtubes. This is possibly because the landing spot is totally flat without any rocks, bushes, or plowed furrows, and the risk of a broken arm or scratched face is relatively low. Additionally, the school does not use a radio for initial training. The instructor just stands near the landing spot and shows turn direction if needed. During landing, he is usually rather close and can just speak loudly.
Training is possible throughout the day as the training hill is located between mountains, and there are neither dangerous turbulence nor strong winds even in the afternoon. It is an ideal place to train. I remember my training in Crimea where I had to wake up at 5 in the morning…
Near the landing spot, there are two trees "to be more precise." Once, I flew directly to the tree, but thankfully, it was pretty far away. I learned once more not to look at the obstacle because it becomes a reference point in this case.
Throughout the day, I have had some crazy number of 2-3-meters-height flights, definitely more than 20. I used to practice 5-7 times during my previous training. My takeoff is much better now, and my flight is much more stable 🙂